The picture in my post is of my parents' kitten, Kisa, and one of the "outdoor cats" that often come indoors to visit her, Gray. I figured I'd spice up this entry with a picture that my father took of them playing together last week. After all, it's catblogging day, right?
As I write this, I'm sitting at my parents' home, relaxing. I drove down here yesterday morning after getting up, finishing packing, showering, and dressing. We had the traditional turkey dinner with all the extras at three in the afternoon. Then Mom took a nap, as she had to work third shift last night. When she got back up, we all sat down and watched Sky High. My parents had never seen it before and loved it.
Today, I got up, showered, and ran to town so that I could pick up a copy of Divine Nobodies. (Special thanks to Erin for recommending it.) I decided to start it this afternoon rather than waiting until the car trip tomorrow. So far, I've enjoyed it overall and hope to write about it after I've finished it and processed through all my thoughts.
Speaking of tomorrow's trip, I was pleased to discover that only my aunt and uncle, Janet and Tom, will be riding down with Dad and I. Of all my relatives, they're some of my favorites. It also means that conversations during the trip should remain relatively casual and "safe." So that's quite a relief. My cousin, Melissa, will also be coming from Philadelphia, which means I'll get to see her a second time in the same three month period. Considering we went two years without seeing each other prior to her wedding, this is pretty significant.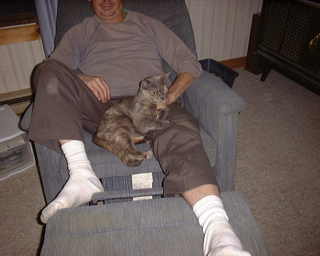 I have to admit that I do miss some of my friends right now. I love my family, and I'm constantly feeling more comfortable around them (I even managed to mention a couple of gay friends in the context of relationship while talking with my mother yesterday). But at the same time, I miss spending time with those I've built mutually beneficial relationships with over the past couple years. In fact, I think I'll call Michele here in a bit.
I'm going to skip the common practice of listing the things I'm thankful for. Instead, I'm merely going to say that I'm thankful for my life in general and the countless blessings — both large and small — that have come to fill it.
The second picture is one I just took of Precious curled up on her grandpa's lap.