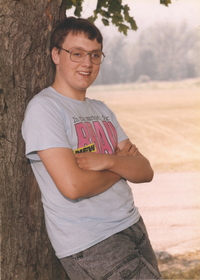 Back in November, I wrote about noticing a picture from my past while visiting my parents. While at my parents' house for Easter, I decided to scan a copy of it. So now, you can all see how incredibly good I looked back in the Summer of 1991.
I'm actually quite pleased with how well the scan came out. I commented to my parents that if I had made the printed copy I made the same size as the original, I could've just about swapped them without anyone noticing.
One thing I did note about the picture is my eyes. I didn't go in for the second surgery (the reasonably successful one) to correct my lazy eye until my late twenties. So if you look at this picture closely enough, you can make out where they were misaligned at the time. It's something I never thought about back then unless someone asked me about it. But now, it just seems so strange. It makes me wonder how much it actually did effect my feelings about myself on a subconscious level at the time.
I can still see a lot of myself in this picture, really. I have a receding hairline now, and my stomach is considerably larger, though I'm slowly working on changing the latter. (I think I'm on the brink of dropping another waist size.)
And for anyone who wants to know, the tee shirt says, "In the market for a new brain." It was my favorite shirt back then. Of course, that was also back when a lot of my classmates would ask if they could have my old one. 😉