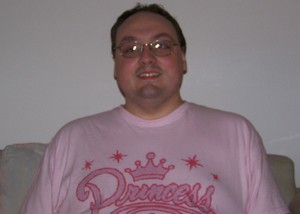 The other day, I looked in the mirror and thought I looked like my face has thinned out again. So I decided to take yet another new picture and do a comparison. Sure enough, it looks like I'm right. I'm pretty sure I thinned out a bit more. It's hard to tell, because it's not a huge difference from last month. But any progress is good, right? And besides, it's only been a month.
Of course, I'm also excited. I bought a shirt while we were shopping in Toronto last month. At the time, it was a bit too snug. This was a problem because it has a design on the back and the design was distorted by the way the shirt stretched in spots. I got the shirt anyway, figuring it'll fit eventually. Well, I wore the shirt under a polo shirt when I went dancing last night. When I got home after dancing, I took the polo shirt off and realized that the new shirt wasn't as snug. I checked the mirror, and it looks like it almost fits correctly now. Perhaps by February, it'll be loose enough to look right. (And maybe by the summer, it'll be bordering on too loose.)
As for the shirt in this picture, yes, it does say "Princess" on the front of it. I decided to get it a few weeks ago when a friend jokingly (at least I think he was joking) called me a princess. I figure if the tiara fits….