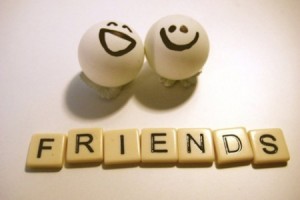 As I've mentioned a couple of times, I spent some time in therapy back in 2011.  I ended up going because my codependency had reached a critical mass and my life was falling apart at the seams.  I have to say that making that choice and working through some of my own problems with the help of a professional was quite possibly the best decision I have ever made.  It's certainly among the top five.
One of the things my therapist would occasionally ask me when I got talking about issues with a particular friend or acquaintance was, "Is this relationship really worth what you're having to deal with?  What are you getting out of it?"  She never pushed me to answer the question in any particular way, but she insisted that I face the question.  I'd say it's probably one of the best things she did for me.
You see, prior to going to therapy, I never would have thought to ask such a question.  In fact, I'd dare say that I never even considered that I was allowed to ask such a question.  I mean, if you're friends, you're friends, right?  Or that was my thinking.  Until I spent some time in therapy.  And then I realized, I get to choose my friends and I get to choose whether those friendships will continue.  That was a wonderful and powerful realization, albeit a scary one.
Sometimes, we're better off without some people in our lives, no matter what our past with those people may have been.  It doesn't matter if Roy1 and I have been friends since the second grade.  If he says and does things that tear me down, I have every right to protect my sense of self-esteem by telling him our friendship is now a thing of the past.  It doesn't matter if Janet and I helped each other through some really tough breakups and a substance abuse problem.  If we've reached a point in our lives where we really have nothing in common, it's okay to wish her the best and let our lives slip apart.
I've intentionally chosen two rather different situations in the last paragraph because I want to stress that there are many diverse reasons why I can end a friendship and am empowered to do so.  It can be because the friendship is toxic to me or because the friendship just isn't what it used to be and trying to recapture the past may be a useless and exhausting endeavor.  My choice to end a friendship may be based on the fact that the other person is a source of pain in my life or it may be based on the fact that the other person is still wonderful, but simply not someone I have that special bond with anymore.  In either case, it's okay.
Some days, the thought of ending a friendship really is scary.  I wonder if I'm making a mistake.  I wonder if I may regret it.  In some cases, I may wonder if I've really given the other person a fair chance.  But in the end, I take comfort in knowing that I ultimately have that choice and it's okay to make it.
---
1All names in this post are randomly chosen and represent imaginary people.