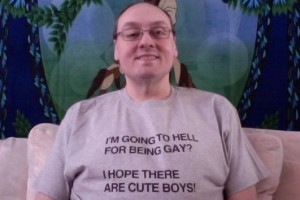 It's April 1st once again.  For those who have been following my blog for a while, you know that this is significant in that it's the anniversary of my initial coming out.  Eighteen years ago, I quit denying that I was attracted to other men, quit claiming it was "just a phase," and quit trying to change myself.  (Well, where my sexual orientation is concerned.)
I don't commemorate or blog about the event every year (See the bottom of this post for links to older anniversary posts), though I decided I wanted to again this year.  This year, I want to consider how my attitude about dating has changed since I came out.
When I came out, dating was extremely important to me.  This is partly because part of the reason I finally came out was because I was tired of being alone.  I was tired of suffering, thinking I may never be able to find — or even allow myself to find — someone I could deeply care about and build a lasting relationship with.  So when I came out, finding someone to love was of grave importance to me.  To put it quite frankly, I was rather desperate at the time.
Consider that I was walking away from years of belief that being gay was bad and that the kind of relationship that appealed to me was strictly prohibited.  Consider that rejecting that belief required me to give up a lot of my identity (being an evangelical Christian — and most evangelicals still insisted that the phrase "gay Christian" was an oxymoron and an abomination at the time — was a huge paart of my existence and idenity) and to strain many freindships and relationships.  So the idea that I'd give all that up and still end up alone was terrifying.  So I ended up putting a lot of energy into the idea that I had to find someone.
It's a mentality that lasted for years, over a decade and a half in fact.  In time, though, it's a mentality that began to fade and is now more or less gone.  That's not to say that I don't want to find someone to build a life with.  Dating is still important to me.  Having a loving relationship is still important to me.  It's just not my single-minded obssession anymore.  Now, it's just something that I'd like to achieve when the time is right and I meet a great guy I'm compatible with and mutually attracted to.
I think I really began to notice this change a few months ago, when I ended my most recent relationship.  I ended it because I just couldn't see myself being with him long-term, which was something he was definitely looking for.  In general, I've found myself far more picky about the guys I date and continue to invest time in, which I think is a positive thing.
I think part of this is due to the fact that once I quit spending so much time and energy figthing with myself over my sexual orientation, I was able to slowly build myself back up.  With the question of how my being gay affects my identity and worth, I was able to more fully explore my identity in all areas of my life.  I was able to build up who I saw myself as, and where I found my sense of worth and emotional strength.  As a result, that idea of a relationship quit being the life-vest I clung to out of desperation.
But that's something that could only develop once I came out and accepted that one part of myself.
Previous Anniversary Posts
Also, be sure to check out Journey to Queerdom.