As I have a pretty well stocked freezer (as in I have enough entrees to last me at least two months, if not three or four), I've decided to take a bit of a break from the heavy duty cooking.  However, I also decided that I wanted to do something special for lunch, so I decided to make the Mexican hamburger rice skillet that I found on Dick Logue's Low Sodium Cooking a few months ago.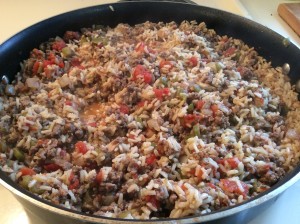 I haven't made the recipe since sometime in November, and I decided to make a few changes it to it this time around:
I decided to add chopped green peppers in addition to the chopped onion, as I'm finding that just about everything tastes even better when I add peppers to it.
I decided to throw the onions and pepper into the skillet with the ground beef while I browned it.  Again, I'm finding this enhances the flavor.
I decided to replace the orzo with another cup of rice.  Since I use brown rice, it breaks down into glucose more slowly than orzo (which I have not found in a whole wheat form).  This makes it a bit better for diabetes control.
The whole thing turned out wonderful, as you can see from the picture I've included.  I'm quite pleased, especially with the fact that I finally found the right amount of water (3 cups) to add to the mix.  I don't know what rice Logue is using, but the 1-1/2 cups of water he recommends isn't nearly enough for the stuff I've been getting.
Of course, I'm also trying to figure out how he came up with the nutritional information he lists on his site.  Again, based on the rice I'm using, the original cup of rice alone divided into four servings makes the carbohydrate count 32 grams per serving.  In fact, I was quite distressed when I realized (only after the fact, naturally) that adding an apple and a yogurt to my lunch put the whole meal two starches over my allowance for this meal.  So when my BG is a bit high when I check it in a few minutes, I'll know why.  Oh well, I've been doing well on that count, so one hiccup shouldn't be a problem.
I love how it turned out, but I'm still thinking of ways I might play with the recipe.
Add another can of tomatoes.
Cut back to a single cup of rice with no other starch.  (If I do this, I won't increase the tomato, more than likely.)
Add a splash of red wine for flavor.
Spice it up a notch with a little cayenne pepper or maybe some chopped jalapeno.
Yes, I'm getting obsessed with cooking.  Now if I could just find someone to do the dishes for me.