[Content Note:  Anti-LGBT Discrimination, Sexual Orientation Change Effort, Ex-Gay Rhetoric]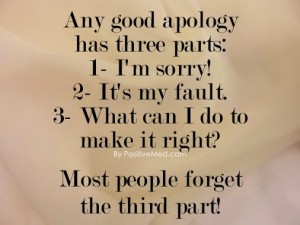 As I mentioned in yesterday's post, Alan Chambers offered an apology to the (other) members of the LGBT community.  I wanted to take a moment and look at it and offer my thoughts and reactions to it.
Before I get to the apology itself, I do want to offer a bit of criticism of his lead-in commentary.  Let me just say that I can sympathize with the fact that Chambers is taking a lot of flak from people who used to support him, not to mention the continuing flak that many in the LGBT community might be giving to him.  However, I also have to say that I find it highly inappropriate to start talking about one's own struggles and how you feel you've been wronged when building up to an apology to the people you yourself have wronged.  Apologies 101 says that you keep the focus on the hurt you've caused one another.  I think that's something Alan needs to keep in mind.
He opens the apology itself by telling a story about a four car collision that he caused.  He tells this story to draw home an important point:
I never intended for the accident to happen. I would never have knowingly hurt anyone. But I did. And it was my fault. In my rush to get to my destination, fear of being stung by a silly bee, and selfish distraction, I injured others.
This is actually something a few of us were concerned about.  We were concerned that Alan would try to pass off any harm done by Exodus and its member ministries as "accidental."  It's good to see that he instead chose to tackle this head on and say that he's responsible for even the "unintentional harm."
He then goes on to name some of the ways — mostly the more extreme ways — in which some people were hurt by their experiences with Exodus member ministries.  He even admits personal culpability in the fact that he wasn't always up front about how much he still struggled (struggles) with same sex sexual attraction, thereby reinforcing a false image that others hoped to, failed to achieved, and felt grief and shame over.  He goes on to talk about the ex-gay narratives that shamed parents.  He confesses to not standing up against those Christian supporters he had who said horrible things about LGBT people.  Overall, Alan lists many criticisms that have been leveled against him and Exodus, acknowledges them, and apologizes without defense or excuse.
The one thing I note as lacking is that Alan never challenges how Exodus's message of "change" was often used as political cover.  The relationship between those who promoted Sexual Orientation Change Effort (whether based in religion, some form of therapy, or a combination of the two) and those who would deny LGBT the full protection of the law and the same rights as their non-LGBT counterparts has always been mutually reinforcing and symbiotic.  Those who would deny LGBT people rights and protections often point to the ex-gay narratives and say, "See?  They don't need these protections.  They can just turn straight."  Similarly, the difficulties that LGBT people face due to discrimination and social stigma perpetuated by anti-LGBT activists also keep many LGBT people in a state of misery that makes them more susceptible to promises made by ex-gay organizations.  Alan's failure to acknowledge those relationships between the two groups and apologize for contributing to the overall toxic mentality toward LGBT people is troubling to me.
Also, I note that Alan does not seem to acknowledge that, while Exodus will be closing its doors and he will personally be getting out of the ex-gay industry, the legacy he helped to build will still go on.  This apology will not stop people from building on the foundation he and the rest of Exodus have already laid.  It will not stop people from continuing to point to his relationship with his wife and his past words as "proof" that LGBT people everywhere should make the same choice and condemn those who don't.  I hope that this is a truth that Alan comes to wrestle with and considers what more he might do to loudly decry those who would continue to build on the legacy he's left.
Furthermore, an apology will not heal any of the wounds already inflicted or any of the damage already done.  That takes more effort, and I find myself wondering what Alan is prepared to do to go beyond simply apologizing and restoring those who he and the rest of Exodus have hurt.  Perhaps that is part of his and the other board members' vision for the new organization they hope to start.  Only time will tell.