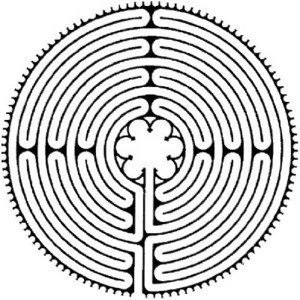 When I found out that Crieff Hills had a labyrinth, I got excited. I'm fascinated by labyrinths, so I knew I'd have to seek it out and walk it at some point. So when another attendee asked if anyone else wanted to go check out the labyrinth (he also mentioned checking out the amphitheater, but that didn't hold as big a pull for me), I jumped at the chance.
The Crieff Hills labyrinth (and there's a lovely picture of it here) is one of the simplest patterns I have seen. Unlike many medieval-style labyrinths (in Greek labyrinths, the "center" wasn't exactly in the center perfectly circular rings), the full length of each ring is traversed once its entered, as opposed to many such labyrinths (study the image included in this post to see what I'm talking about) paths only traverse one quarter or one half of a ring before turning sending you to a different one. This has the effect of having you walk different quarters of the labyrinth, then jumping to a completely different quarter on occasion. The Crieff Hill's labyrinth simply has you jumping between different rings, sometimes bringing you closer to the center, only to move you further away from it before you finally get to the center.
One of the things I like about the Crieff Hills labyrinth (and every other labyrinth I've had the pleasure to walk so far) is that it is marked by a stone path that lets you look out and see your progress. It allows you to see that your ultimate distance from the center increases and decreases — almost at seemingly random intervals. That's what makes them a beautiful metaphor not only for spirituals journeys and life itself. Being able to see your progress and just how meandering it is in a labyrinth can be a great comfort when you feel like your own life journey is too tangled and wonder if it's really going to get you anywhere in the end. (Hey Wendy, if you're reading this, would you consider including a
labyrinth walk as part of the planned activities next year for this
reason?)
Some day, I hope to find and walk a labyrinth that has walls, thereby preventing me from seeing my progress. I want to experience more fully the sense of getting completely lost in a labyrinth, not knowing how close (or far away) from my destination the next turn will take me. To me, that would be another way to experience the parallels between walking a labyrinth and journeying through life.
As an aside, to date, the Crieff Hills labyrinth is the only labyrinth I've seen that has trees in it. Having to duck branches to walk its winding paths was a unique and rather interesting experience. I think it adds another layer of metaphorical meaning to the experience.