I originally received this meditation as a working to do with my coven during our first year together.  I thought I'd share it on my blog.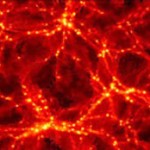 Close your eyes.  Breathe in slowly and deeply.  When you lungs are full, hold in the air for just a moment, then allow it to leave your body, exhaling fully.  Then pause and breathe in once again.  Continue this pattern, allowing any tension, negativity, and distraction to leave your mind and body with each breath expelled from your lungs.  Each time you breathe in, draw in light and life and divine blessings.  Allow your body to become filled with these things.
Become aware of fiery red and gold strands of energy that criss-cross all around you and touch you.  These are the strands of wyrd.  See how they support you and make up everything around you.  Appreciate the substance and energy of them.  Study these strands of energy as they flow away from you, connecting to other people in your life.  Family.  Friends.  Coworkers.  These strands are what hold the universe and connect all things together.
Notice how your actions, your choices, affect these strands.  Notice how each choice you make is woven into their web and change the energy that flows through them.  Consider how these changes affect everyone and everything else through their connections to you in this web.  Watch how their choices and changes to the web of wyrd likewise affect you.
After a few moments of studying the web of wyrd and appreciating how it connects you with the rest of the universe, allow the image of the web to fade from your mind's eye, knowing that it is still there.  Allow yourself to become once again more aware of your body and your present circumstances.  Become more connected to your body as you return to regular consciousness, never forgetting your experience.