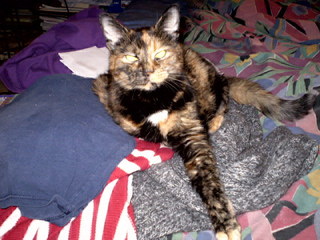 Long-time blog friend Tracie made the hard decision to put down her beloved Bean (pictured to the left). This gorgeous furbaby had been struggling with advanced cancer for a while, and the time had come to grant her peace from her suffering. At this time, I'd like to offer Tracie my deepest condolences along with a few words.
I'm going to try my best (though I'm not sure how good my best will ultimately be) to avoid platitudes, such as how Bean is in a better place (which I definitely believe) or how even death is the part of a master plan we don't understand (which I might believe up to a point). Instead, I want to say something else to you, Tracie.
It sucks. I know you're hurting and missing your darling little Bean. If I was in your position, I'd feel the same way. I'd probably bawl my eyes out more than once today and over the next several days. So girl, you go right ahead and do that. You both need and deserve to do it. And the gods know, Bean deserves that kind of love.
And ultimately, that's what we're talking about. The reason this sucks so bad is that you loved her and she loved you. You shared a bond and countless precious moments. She was a precious part of your life that you cherished for many years and you will continue to cherish. The loss of that bond — the loss of the chance to experience new precious moments with your darling Bean — is worthy of much sorrow. Such love must be mourned. So give yourself the freedom to do so. It's just another way of cherishing the love the two of you shared.
I hope that you find a way to express your sorrow, cherish your memories, and find the sweetness in it all.
My thoughts are with you, my friend.