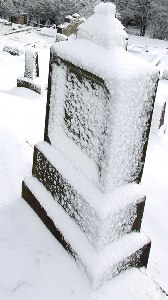 This morning, my father called to let me know that his plans had changed suddenly, so he would not be coming to Rochester today. He also let me know that the reason that his plans had changed because our old pony, Saddle, died in the middle of the night. So Dad has to see to that today.
While I'm sad to hear that Saddle has passed beyond the veil, I am not surprised by the news. We all knew that it was merely a matter of time. Saddle would have turned thirty seven in the next month or so, which means that he lived roughly a decade beyond the normal life expectancy for his breed. Indeed, I remember back in the summer of 1997 when Dad was building Saddle's new pasture at the new house. Dad commented on more than one occasion that he was putting a lot of effort into building fence for a horse that probably wouldn't make it through the coming winter. But the following Spring, the old codger (Saddle, not Dad) was running and kicking as if he were still a young colt. (Come to think of it, Dad's still pretty spry, too.)
Dad went through that same process for the two or three summers after that, each time he went out to mend fence. After the last time, he simply decided that Saddle was going to stick around and said nothing more. We all knew that our little pony wouldn't be with us forever, but we decided to quit expecting the inevitable. And as if out of kindness, the inevitable stayed away for several more years.
I vaguely remember when we purchased Saddle (actually, we purchased him back, as he was originally born on my parents' property back when they used to keep multiple horses, but they eventually sold them all when they started a family) when I was about five years old. I learned to ride horse (both bareback and with a saddle) on him. Saddle was a stubborn old coot, and I learned quickly how to handle a horse who didn't want to do the things I wanted him to do. I also learned how to duck the low hanging branches that Saddle would sometimes walk under as I rode him. (I could have made him go around, but that would've spoiled the fun.) I also remember when Saddle bucked my sister and I off when I was between the ages of five and seven. Both of us had wanted to ride him that day, so my father decided to have us ride double as he led Saddle. The old pony decided that was too much to ask for and bucked. I don't think my sister ever rode him after that. I didn't give up, though.
Rest in peace, old horse. You will be missed. But I'm sure I'll see you again someday.
(Special thanks to Petr Kratochvil for releasing a public domain source for the image in this post.)