A little over a year ago, I joined efforts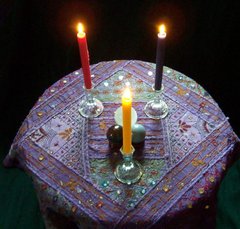 with a small group of people to form a new coven. We came to name our coven The Wick, inspired by the song we play in the background while we prepare ourselves for ritual. (I hope the songwriter doesn't mind.) Tonight, we led our first public ritual at Psychic's Thyme as a way to connect with and give back to our greater community. It was a wonderful experience, and had several people participate with us.
While highly enjoyable and well worth it, planning and leading public rituals takes a bit of work. Our coven spent the past few business meetings working out details and revising our normal ritual structure to account for working with a larger group and people unfamiliar with the way we do things. (We use a very different method for casting a circle, for example.)
Tonight, I was given an incredible reminder why that effort is so worthwhile in the long run. My friend, Cari, attended tonight's ritual an brought her two stepsons, ages nine and eleven. In a conversation on Facebook, Cari had the following to say (quoted here with permission) about the experience:
On no the whole group was amazing and VERY informative, and patient with
my boys. They will never forget tonight and you all I have to thank.
Please pass it on to your other members. Colin is now making his own
Alter now.

I can think of no greater praise or reward than to know that the work that my coven-mates and I put into tonight's ritual helped excite two young boys and even inspire one of them to start working on his own altar. I don't know where they're spiritual journeys will lead these boys in the long run, but knowing that our efforts have helped move them along that path in any way is a great joy. It's the sort of thing that makes me want to do more such rituals in the futures.
May the gods be praised. And may the gods be served. And may those around us prosper as a result.
The picture in this blog show's the coven's basic altar set-up. The song "We Are the Wick" can be found on Castalia's second CD, Hidden.