Like a lot of gay guys, I have an account on Grindr. I have what I think is a pretty nice profile picture up. The about me section has been pretty boring. I mean, Grindr only gives you 255 characters to work with, and it's hard to be funny, seductive, and witty with only a couple dozen words — and that's only if you stick to monosyllabic words! So this has been my profile recently: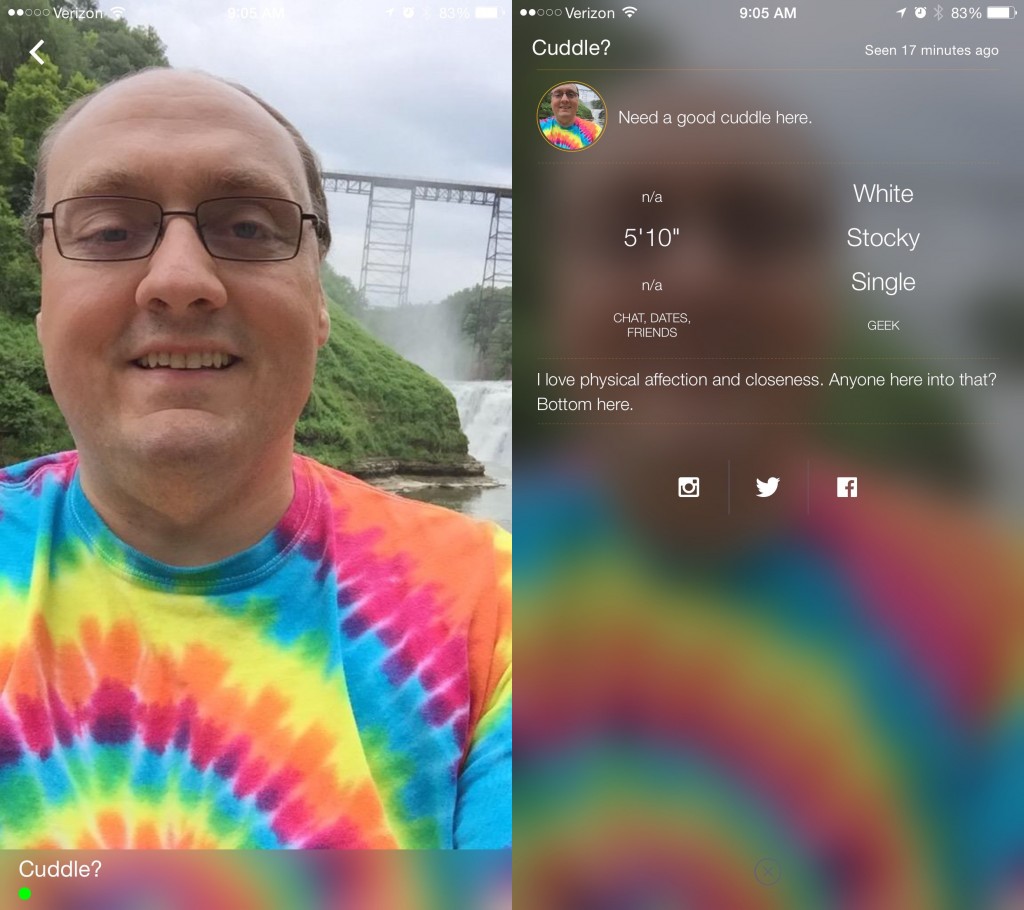 I don't get a lot of messages or responses on Grindr. Unless you count the spambots I get anywhere from one to five times a day.
Well recently, I ended up creating a second Grindr account.  This one is completely blank. No picture. No information. Not even my age. I won't post a picture of what that looks like. If you want to know, just download the app. I can almost guarantee that there will be at least five guys near you who have no picture and/or no personal information entered.
So I had this other account, and I soon discovered that guys were contacting me through it. Yeah, that's right. Guys will apparently line up to contact a completely empty profile while passing by guys who are trying to present who they are and have something to say. But that's enough bitterness on my part.
Of course, most guys that contacted that profile opened with asking for a picture. (Those that didn't usually asked in their second message.) I simply told them that I didn't have a picture to send, figuring they'd go away.  Strangely, not all of them did.  In fact, most of them persisted. So I decided to have a little fun with it.
Sadly, I don't have a capture of the conversation that really brought out my mischievous side. Because that guy gave me a chuckle, I decided to send him a picture after all and got rewarded with an instant block. But basically, when I told him I didn't have a picture to send, he asked if I was Casper or something.  (My reply: "Casper? What makes you think I'm friendly?") So that gave me the idea of giving whimsical responses to requests for pictures. The best one — fortunately I was able to do the screen captures before this one eventually blocked me — is the following: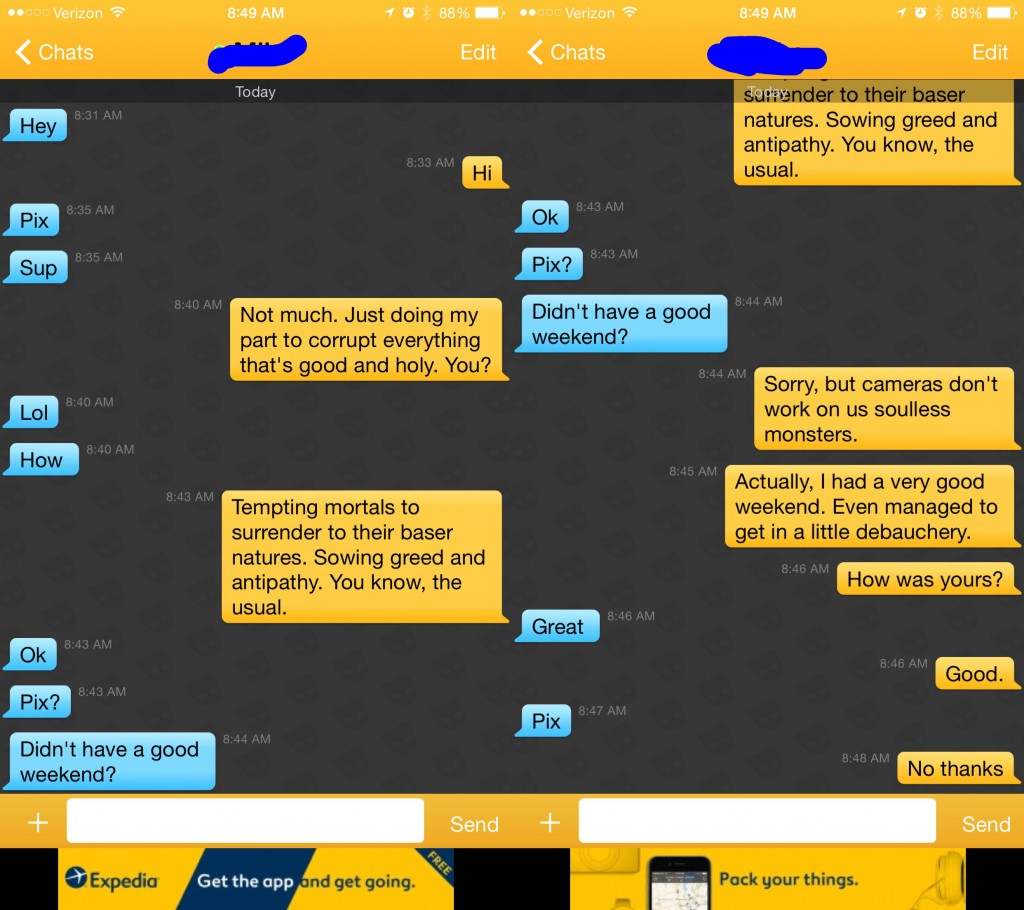 It amazes me how much some of these guys can really push despite being told no. Granted not all of my exchanges have been as witty. Some I just turned down normally. Even those have been entertaining, though. After all, the butthurt can be something else. Take this fine example: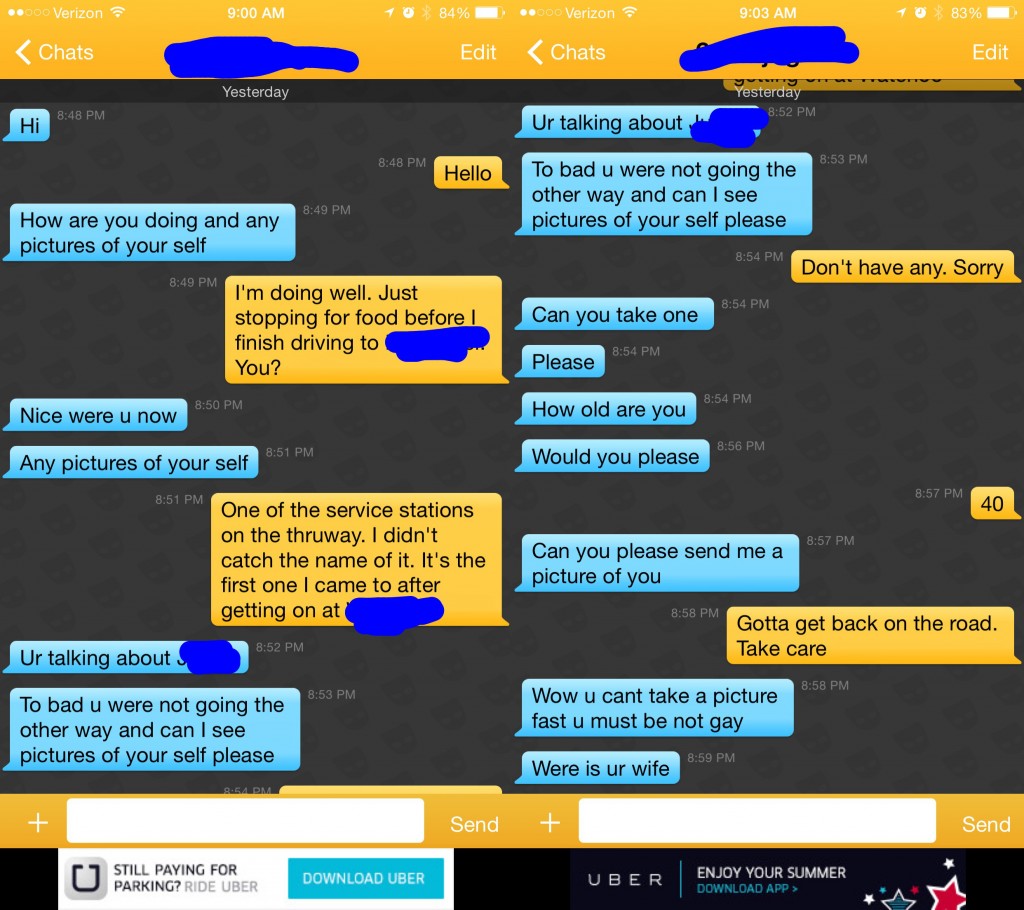 I haven't had anyone announce that I must be fat. I suspect it's a matter of time. To be honest, I'm looking forward to that moment, because I already have my response planned: "Took you long enough to figure it out, dipshit."
I'm not sure, but I think this guy was hoping that I'd offer him money: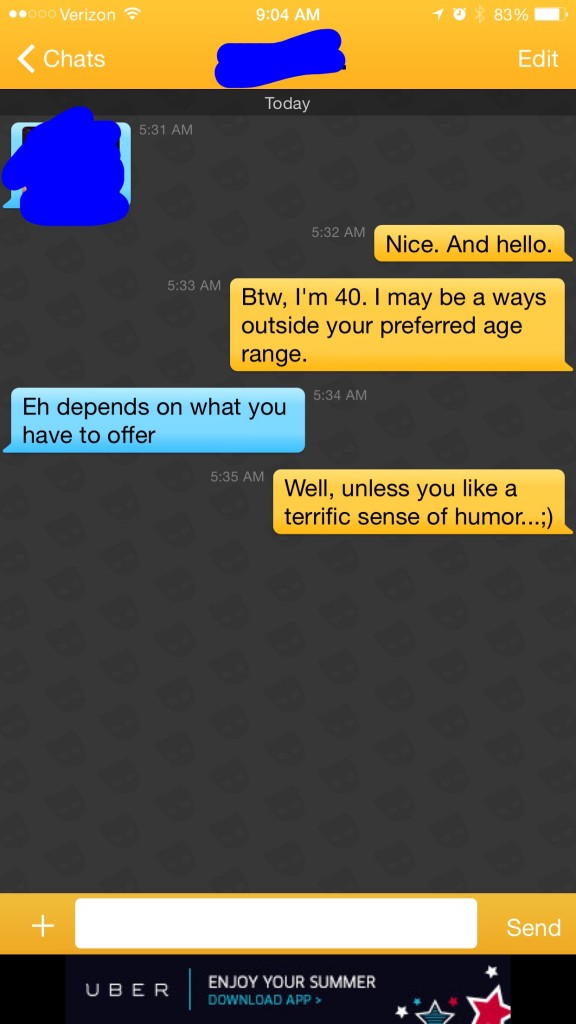 He didn't respond after that, so I'm guessing he doesn't have a thing for guys with a terrific sense of humor, after all. Le sigh.
I suspect I'll be having this kind of fun for a while. If I have any more really awesome exchanges (be it butthurt on their part or particularly clever responses on mine), I'll be sure to send them.
Also, one other good thing came out of this thought experiment. I now have a less boring profile for my other account: