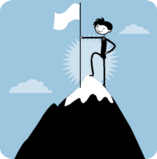 When I filled out the online registration form last Wednesday, I was asked to set a fund-raising goal for the Walk to Cure Diabetes. I decided to go with the recommended individual goal of $100. When I set it, I never imagined that I would've reached that goal this soon! I'm grateful to those generous people who have sponsored me already.
However, with more than a month still remaining before the Walk, it wouldn't make sense for me to just quit my fund-raising efforts. After all, I still have plenty of friends I haven't asked yet. So with a sense of accomplishment and a desire to press forward, I have decided to double my fund-raising goal. I figure that since I managed to get enough support to raise $100 in less than a week, it shouldn't be much trouble to raise another $100 in the next month!
I would like to thank all of my current sponsors who have helped me meet my first goal so quickly. And for those who are still debating about donating, I'd encourage you to give whatever you can. Even $10 helps!
Thank you for your support.