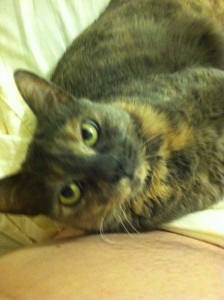 [Content Note:  Brief mentions of depression.]
In a few hours, I'll be heading down to my parents' house to spend the night and collect my little darling, Precious.  I sent her to stay with her grandparents almost two weeks ago while I was traveling to Canada.  I'll be happy to bring her back home with me, as my place seems too quiet without her.  I've already started mistaking a lump of wadded up sheets for her laying next to me or thinking I heard her meowing at different intervals.
I think that having her around also tends to make me feel better about myself and not fall into depression so easily.  I remember the first time I moved out of my parents' home — in the late 1990's.  At that time, I had my cat, Strype.  However, I left him at my parents' house as the apartment I moved into did not allow for pets.  Also, Strype was such an old cat, I wasn't sure I wanted to make him leave my parents home or his litter-mate, who had been a part of his whole life.  As a result, that apartment was dull and quiet and left me feeling quite lonely.  (Granted the massive things I was dealing with at that point in my life didn't help, either.)
When I moved to Rochester, though, I knew I needed to bring Precious with me.  Part of that was due to the fact that although I've always had a good relationship with my other cats, Precious and I seem to share a sort of bond I've never experienced before.  I've never had a cat before that is as clingy as she can be.  (She'll spend the next few days giving me the stink-eye every time I head for the door, as if to say, "You already disappeared for several days, Bub!  Where do you think you're going now???")  So when I moved up here, I made a point of making sure I found a place where I could have a cat.  That and having washer and drier hookups were my two major non-negotiable items.