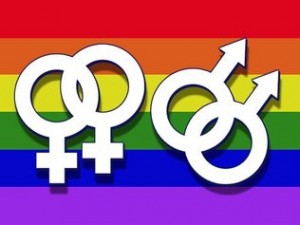 Right now, Congress is working on legislation for immigration reform.  Some people have had this "radical" idea that such reform should also speak to the fact that in some parts of our country, same-sex couples can legally get married.  After all, our laws already take people's marriage to different-sex couples into account when making immigration decisions (e.g. we generally let an immigrant who is married to a citizen stay in the country), so it only makes sense to give married same-sex couples the same kind of consideration.
Unless you're someone like Eugene Delgaudio, who had this to say about the idea in a recent fundraising email he sent on behalf of the Public Advocate of the United States:
You see, the Homosexual Immigration Act would give homosexuals a preferred immigration status and lead to the defacto nationalization of homosexual "marriage."
Pay close attention to that statement.  According to people like Eugene Delgaudio, acknowledging that same-sex couples who went through the same process to gain the same legal recognition of their relationship as many different-sex couples and therefore deserve the same legal considerations that those different-sex couples receive — and often take for granted — is giving them a "preferred immigration status."
Placing people on equal legal ground now constitutes "privileging" them?  Is there any evidence that would be more convincing than this that people like Eugene Delgaudio really have no idea what words "privilege" and "preferential status" mean?
I also think that it's telling that he mentions this "granting of preferred immigration status" before the idea of "nationalizing homosexual 'marriage.'"  It suggests that for all the anti-gay rhetoric about "protecting marriage" and "making sure every child has a mother and father," the real motivation behind fighting marriage equality is that it still gives them ways to treat LGBT people as second-class citizens.  Stop and think about it.  If they deny that there can be such a thing as same sex marriage, they can continue to claim that treating same-sex couples with the same dignity and respect is perfectly okay.  Breaking up same-sex couples through deportation is okay because they were never a "real" couple.
That is an act of aggression against same-sex couples.  It's an act of bigotry.  It's an act of bigotry that is enabled by every person who opposes marriage equality, especially those who refuse to acknowledge how the lack of marriage equality negatively impacts same-sex couples.