I haven't blogged much in a while.  Part of the reason for that is that I haven't been sure what to blog about.  The other part of that reason is that I haven't been doing well health-wise since at least August.  This blog post is going to be about my health, the (ongoing) road to recovery, and my thoughts along the way.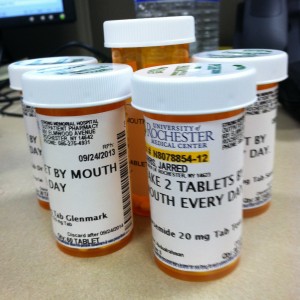 Back in August (maybe July), I started noticing I was getting winded pretty easily.  Climbing stairs took extra effort and occasionally a break about halfway up.  I didn't think much of it at the time.  I just figured I had been to sedentary, since I hadn't gone for my walks this past summer like I do most summers.  Things got progressively worse until they got really bad in September.  By the last two weeks of September, it took multiple pauses to make it up a single flight of stairs.  September is when I also started noticing the swelling in my feet and legs.  A lot of swelling.  (We'll get to the details in a bit.)
At first, I was my stubborn self and insisted things would straighten themselves out, right up until September 17.  At that point, I decided it was time to run to one of the urgent care facilities.  At this point, I was thinking maybe an infection of some sort (I know some infections can cause edema).  The doctor there checked me out and had me get a chest x-ray.  Then she gave me the bad news:  I was experiencing congestive heart failure.  So much for getting some antibiotics and heading home.
Instead, the doctor ran an EKG on me, looked at it and gave me a choice:  I could solemnly swear that I would drive myself to the hospital that day or she could call an ambulance.  I asked her if I could drive myself home first to pick up my cell phone first, which she said was fine.  So I went home, grabbed my cell phone, threw together my laptop case, and called my parents to come get the cat, since I knew I'd be in the hospital for at least a couple days.  I also decided to call a friend and have her drive me to the hospital.
I got to the Emergency Department at around 4:30 and they had me in a bed by 5:00pm. They also began the Lasix almost immediately to start getting the edema off.  They kept me in emergency until 3:30am and then moved me into a room in 4-34.  (That also happens to be the floor where they tend to keep transplant patients, which freaked out at least one friend who came to visit me at first.)  My first thirty six hours in the hospital consisted of little more than eating, sleeping, and peeing as much as humanly possible, thanks to the Lasix they were pumping into me.  (The switched me over to an oral diuretic my second morning there.)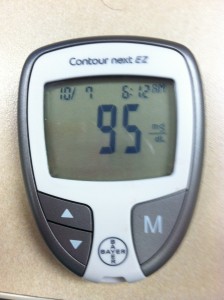 The first morning, they also took me for an echocardiogram, where they discovered all the gory details about my heart (the left side is enlarged and it's pumping at around half the strength it should be).  They also started putting me on medications to lower my blood pressure, slow my heart rate, and lower my cholesterol (which actually isn't that bad anyway, thankfully).  They also put me on insulin for my diabetes which was not as under control as I had imagined.
In all, I ended up being in the hospital for eight days.  That's mainly because it took my body until Sunday to be able to do much of anything without being on oxygen and they didn't want to send me home on it.  Then they kept me until Monday so they could do an angiogram (no arterial blockages or damage, thankfully).  The cath lab didn't get me in for the procedure until almost four, so they kept me one more night.  By the time I got out of there on the 24th, I was ready to get home.
The good news is that things are greatly improved.  I'm feeling a lot better — which isn't surprising considering that the doctor estimated I went in carrying around about fifty pounds of extra water.  Right now, my doctors are in the process of tweaking my medications to get the best results and making sure my body  can tolerated the medications.
On the bright side, this finally forced me to find a doctor (and a cardiologist now) so I can get back to monitoring my health more closely.  It's unfortunate that it took such a serious health crisis to force me to do so, but there you have it.  It also forced me to get things straightened out (with countless thanks to my father for helping with this) at home so I can start cooking again.  The low sodium lifestyle just isn't compatible with eating nothing but delivery and takeout.
Hopefully, in time, I will even find the time and energy (the only problem I'm having right now is I still tend to tire quickly) to return to blogging. Then I just have to work out what to blog about.  😉