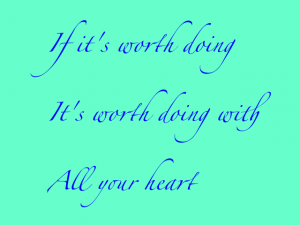 One of the things that I love about being a devotee of Freyja is that she is extremely life-affirming.  Her embrace of passion and raising the idea of a life lived fully and joyfully to the point of being sacred is something that says, hey this life is more than a mere training ground for the next life.  It's not something that is to be endured as a test for worthiness.  It is something that is supposed to be celebrated and lived out for its own sake1.
Now, this doesn't mean that Freyja promotes a purely selfish and narcissistic form of hedonism.  After all, one can enjoy the joys and pleasures of this life and still find a framework for morality — even one suggested by the desire to enjoy such things.  One of the things that I love about serving a goddess who delights in and encourages such celebration of life is that she also often offers advice on how to do so in a way that is good for everyone involved.
Of course, life still has it's down sides.  Sometimes the tears come.   But one of the things I have also learned is that sometimes, the tears come because of the joys and show just how precious those joys have been.  In some ways, I think that if the loss of the good times don't drive us to a certain amount of wailing, we should really wonder how good those times really were.
So today, I offer this toast to life.  May you live yours to the fullest and find it well worth living.
---
1I suppose this is why I tend to gravitate toward a view that reincarnation is a desirable outcome rather than something to be escaped, as I mentioned in another post earlier this week.